Welcome to Svalbard!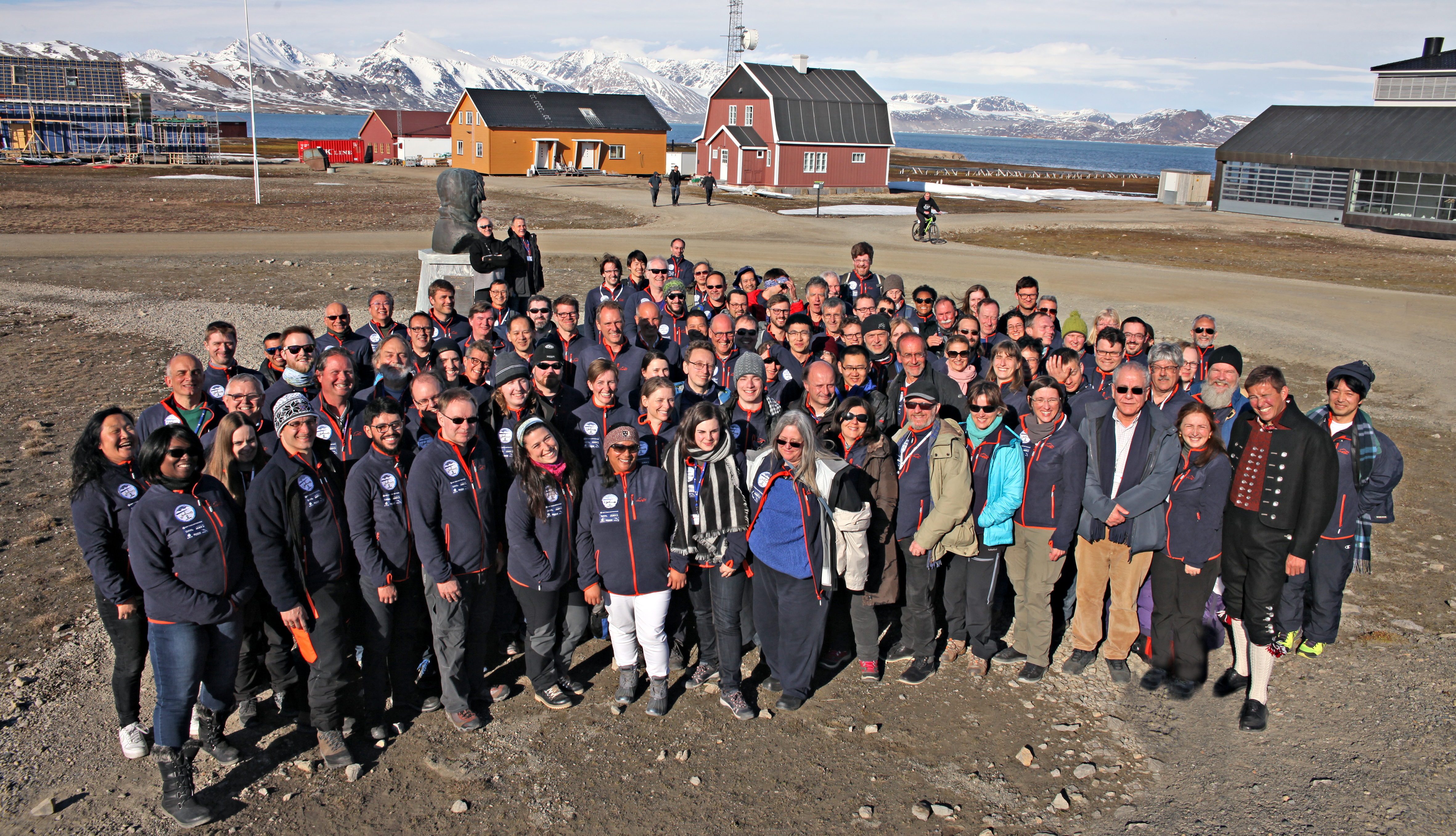 From the inauguration of the new twin telescopes in Ny-Ålesund 6.6.2018. Photo: Bjørn Owe Holmberg
The 10th IVS general meeting (GM2018) will be hosted by the Norwegian Mapping Authority (Kartverket) at Longyearbyen in the island of Spitsbergen, Svalbard, from 3-9 June 2018. The GM2018 includes plenary sessions, poster sessions, an analysis workshop and splinter meetings.
As a participant in GM2018, you are specially invited to take part in the official opening of Kartverket's new Earth Obser­vatory in Ny-Ålesund on Wednesday 6 June. A ship will transport you through the beautiful Arctic scenery from Longyearbyen to Ny-Ålesund further to the north.
Kartverket is proud of its new observatory. When finalised, it will combine five geodetic measuring techniques: very long baseline interferometry (VLBI), satellite laser ranging (SLR), global navigation satellite systems (GNSS), doppler orbi­tography and radio positioning integrated by satellite (Doris) and gravity.
The International VLBI Service for Geodesy and Astrometry (IVS) holds a general meeting every two years. Its purpose is to assemble representatives from all IVS components to share information and plan future activities. This meeting also provides a forum for interaction with other members of the VLBI and Earth science communities.
Owing to the limited number of seats available on flights to Longyearbyen, we recommend that you register early for GM2018 and make your flight reservation immediately afterwards. There are two companies offering flight to Svalbard, SAS - https://www.sas.no and Norwegian - https://www.norwegian.no
We hope the untamed and picturesque surroundings of this venue will contribute to a very successful meeting. Welcome to GM2018.
Important Dates
6 November 2017: first announcement
1 February Registration fee before 1 February NOK 7000, registration fee after 1 February NOK 9000
15 January 2018: second announcement, abstract submission opens.
25 February 2018: registration deadline - Extended to 15 March 2018
25 February 2018: abstract submission deadline - Extended to 15 March 2018
Programme
3 June 2018: registration and ice-breaker
4 June 2018: conference day 1, visit to SvalSat (restricted capacity) in the evening and a walkthrough of its operational centre
5 June 2018: conference day 2, visit to SvalSat (restricted capacity) in the evening and a walkthrough of its operational centre
6 June 2018: excursion to Ny-Ålesund by sea, official opening of the new Earth Observatory
7 June 2018: conference day 3 and conference dinner (at Kulturhuset, the Longyearbyen cultural centre)