Join Better Cotton and partners for the conference where the entire cotton sector comes together in shaping a more sustainable future for this remarkable plant.

After two years of adapted online engagement due to the pandemic, Better Cotton is set to hold its annual conference again, this time as in-person and hybrid event in Malmö, Sweden.
Connect with industry leaders and experts for an interactive opportunity to explore the entire value chain, including topics around climate action, innovation today and social sustainability.



In just over 10 years Better Cotton has become the world's largest cotton sustainability programme. However, the environment is in danger, climate change is at a tipping point, and the majority of cotton farmers and farm workers are in some of the world's poorest, worst affected countries. The global pandemic has compounded the difficulties.

Better Cotton is meeting the climate crisis head on. Along with our extensive network of partners and members, we are working to make cotton farming more climate-resilient and sustainable, while aiming to protect the livelihoods of farming communities.

We're excited to bring our global community together in-person and online to dive deeper into these issues through exploring topics such as, regenerative agriculture, gender equality, climate change capacity building, traceability and much more. Join us to collaborate at the Better Cotton Conference on a more sustainable future for cotton.
Why attend?
Quotes from previous attendees…

"To share with you my takeaways from the conference, I'm really delighted to see in many of the sessions, a lot of talk about innovation—the focus is on doing things differently in order to get different results, and not get stuck in the old way of doing things." –Heinrich Schultz, Founder and Managing Director, Organi Mark South Africa

"It is a great conference just because it brings the whole supply chain together and everybody has something to learn from each other."
–Sükran Bayçura, General Manager, IPUD

"I've really enjoyed the conference and being reminded of all the diverse actors along the supply chain. Thinking about and understanding how to connect those stories is one thing I want to take away from the event—how to bring those farmer stories back to my office in New York and back to our customer, so they understand how all of our work is connected and how sustainability is not just about working on environmental issues, but how it impacts people's lives around the world."
–Michelle Tarry, Senior Director of Responsible Sourcing & Sustainability, American Eagle Outfitters, Inc. (AEO)


Past attendees…
The Better Cotton Conference has collaborated with suppliers and stakeholders to encourage innovation and embed sustainability as much as possible throughout the planning and delivery of this event. We are operating with a predominantly vegetarian menu, there are no single use plastics and we've ensured procedures are in place to correctly dispose of or recycle waste properly. In addition, Better Cotton is offsetting the greenhouse gas emissions generated by the conference and all participant travel through a carbon offset project verified by the Gold Standard.

---

About Better Cotton
Better Cotton is the world's leading sustainability initiative for cotton. Through our network of field-level partners we have trained over 2.5 million farmers in 25 countries in more sustainable farming practices. Nearly a quarter of the world's cotton is now grown under the Better Cotton Standard.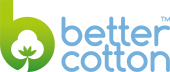 ---

2022 Sponsors