Information for exhibitors

NORDIWA 2023 has 14 designated exhibitor spaces, and the exhibition will take place at the Elite Park Avenue Hotel in Göteborg. All individuals visiting the conference and its exhibition must be registered and wear a name badge.
---
Prices
| | | |
| --- | --- | --- |
| Exhibitor package including 1 staff | 17 500 SEK | |
| | (14 000 SEK excl. VAT) | |
| Additional staff | 8 675 SEK | |
| | (6 940 SEK excl. VAT) | |
| All prices above include 25% VAT | | |
| | | |
| Social Program | | |
| Banquet dinner - 6 september | 896 SEK | |
| | (800 SEK excl. VAT) | |
| Dinner price include 12% VAT | | |
---
Exhibitor packages include:
Exhibition area of 6 square meters - 3m wide, 2m deep

Electricity supply including power consumption (10 A)

1 Free registration to the conference (incl. coffee and lunches according to program)

The exhibitor package also includes exposure of the company/organisation's logo and website on the event website. Upload your logo and enter your website address when registering for the exhibition.
Banquet dinner is booked and paid for separately.
---
Exhibition floor plan
The exhibition has 15 stand spaces and is situated at the heart of the conference – directly connected to the conference rooms Banquet Halls and Taube Room. All coffee and lunch breaks will take place in the exhibition area.
Click on the picture below to make the picture bigger.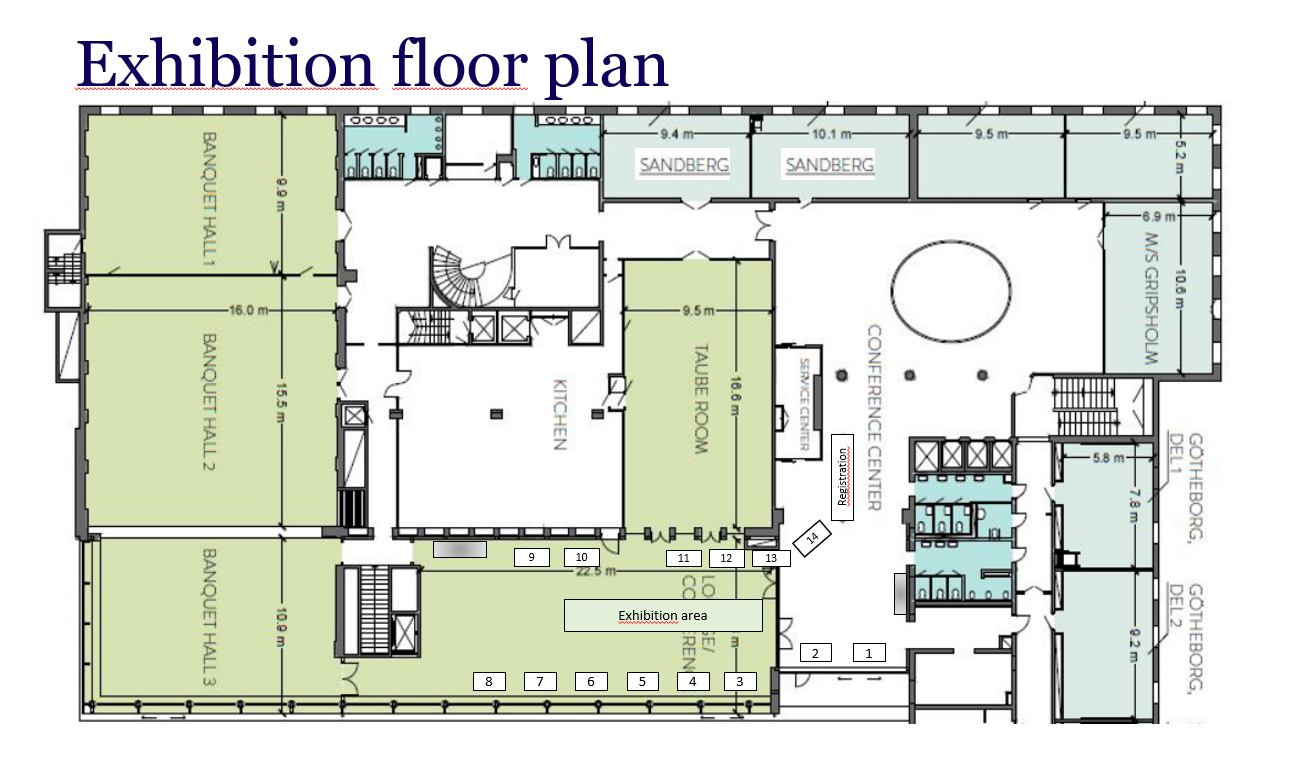 Please note that final place allocations are confirmed approx. 1 week ahead of the conference.
---
How to register?
Click on the Register tab in the menu and select Register exhibitor.
One free staff registration is included in the exhibitor registration. Any extra staff must register via a separate link which you will recieve upon booking an exhibitor place.
---
General information
Preliminary exhibition opening hours:
Tuesday 5 September 2023, 11.30-17.30 (registration and lunch between 11.30 and 12.30)
Wednesday 6 September 2023, 08.00-15.00 (the program starts at 09.00 and ends at 15.00)
Thursday 7 September 2023, 08.00-14.00 (the program starts at 09.00 and ends at 15.00)
Please respect the opening hours and do not disassemble your stands before the exhibition closes.

Assembly stands
Tuesday 5 September between 08.00 and 11.00.
Dismantling stands
Thursday 7 September between 14.00 and 17.00.
Assembly and dismantling stands
All items brought into the Elite Park Avenue Hotel by the exhibitor must be removed by 17.00 on Thursday 7 September at the latest. If this is not observed, Elite Park Avenue Hotel may remove the items at the expense and risk of the exhibitor. Take the goods with you directly or pack them up, label them with delivery notes and leave them in the stand for collection. It is important that shipping labels are taped to the goods and that the goods are on a shipping pallet. Transport of goods from the conference is handled by the exhibitor. Goods must be provided with a waybill on all packages and be well packed. The company that orders the transport (not Elite Park Avenue Hotel) must be specified as the sender. Please note that it is not permitted to use adhesive pads or tape, or nails to mount anything on walls, pillars or any other fixed inventories. If any marks are left on these spaces, the exhibiting company will be liable to reimburse Elite Park Avenue Hotel for any costs incurred.
The exhibitor may not borrow inventory without prior consent. Fixed installations such as lights, sounds, structures may only be adjusted upon approval from Elite Park Avenue Hotel. If modifications are made, restoration to original condition must be performed before departure. If this does not happen, the exhibitor is charged a handling cost for restoration. If unsure, please ask the staff present at the exhibition area.
Designated space to store empty packaging during the conference will be available. If you need additional time for assembling or disassembling, please let Svenskt Vatten know via e-mail: konferens@svensktvatten.se
Service and extra
To book extra furniture, technology and/or equipment, please contact konferens.parkavenue@elite.se at least one month before the conference. List of furniture: Möbler - Expo Möbler (expomobler.se). Name the e-mail with "Exhibition – NORDIWA 2023 – Your company name"
Delivery and collection of goods
Goods can be received at the hotel from Monday 4 September. Collection no later than Thursday 7 September at 17.00.
Delivery and collection address
Elite Park Avenue Hotel
Engelbrektsgatan 45
411 37 Göteborg
Phone number: 0723-94 34 20
ATTENTION! All goods must be marked with:
NORDIWA 2023, 5-7 September 2023
Parking
No pre-bookings, instead parking is subject to availability. Elite Park Avenue Hotel offers two options for parking.
Option 1, the hotel staff parks the car at an unguarded outdoor parking lot.
Option 2, a parking garage a little further away from the hotel called City Avenue. With this option, please ask the hotel for guidance and travel instructions. Costs are to be paid to the hotel.

| | |
| --- | --- |
| Valet parking to unguarded outdoor parking lot | 395 SEK/day |
| Parking garage City Avenue | 295 SEK/day |
Food and drinks
Exhibitors may bring their own sweets or snacks into the exhibition - however no drinks or substantial food may be brought into the exhibition area – additional food is ordered via Elite Park Avenue Hotel in accordance with their current price list.
Cleaning and garbage
Exhibitors are responsible for cleaning their own stand. Elite Park Avenue Hotel will perform the general cleaning of the premises. This covers general cleanliness, but does not include large quantities of garbage handling, or deep cleaning after construction or similar. The exhibitor is responsible for necessary cleaning of their equipment, exhibition objects, stands and such.
Posters and signs
It is not permitted to display material or posters anywhere but your assigned stand. Tape may NOT be used. At the event of this being breached, any damage will be paid for by the exhibitor. Cords, wires or similar used for suspension must be taken down by the exhibitor before moving out, if this does not happen a handling fee will be charged.
Security and insurance
Insurance for owned equipment is the responsibility of the exhibitor. Neither Svenskt Vatten nor Elite Park Avenue Hotel are responsible for damage or loss of materials and equipment. All types of glass and bottles, cans and other hard objects, laser pointers, pressurized containers, chains, knives, weapons, flares, fireworks and other forms of pyrotechnical items, as well as anything else that may cause personal injury are prohibited from being brought into Elite Park Avenue Hotel. It is possible to store empty packaging during the conference.
Defibrillator
Defibrillators are available in the area.

Other information
Registration for exhibitors takes place on the 5 September from 08.00.
---
This information is subject to change.